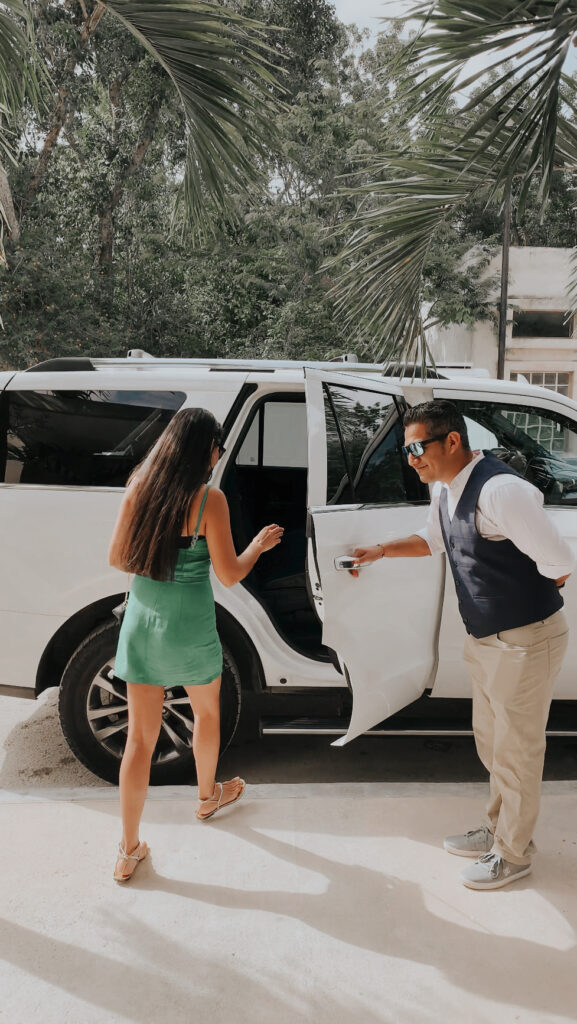 Most of our customers are first-time Tulum visitors and prefer a trip that is stress-free, organized, and safe. Our transportation team completely understand this and offers the convenience of a private driver service to ensure customers can enjoy their itinerary without any hassles. To make it easier, we will break down the differences between hiring a private driver or hailing a taxi in Tulum.
SAFETY, RELIABILITY, AND RESPECT
If safety and reliability are concerns, we highly recommend our private driver service for large groups. Our drivers are fully vetted, screened, and insured. We have an onsite team to take care of the details, so there are no surprises like detours, hidden fees, or unwanted driver behaviors. You can leave your personal belongings with our drivers and feel comfortable knowing that you are well taken care of.
AVAILABILITY
Tulum is still a rustic destination and not New York City or Miami, so taxis are somewhat limited and there is no Uber or Lyft. A regular taxi can accommodate 3-4 guests (with one guest sitting upfront with the driver). With larger groups, additional vehicles are needed. However, with our private driver service, we can fit up to 8 guests in our luxury vans. This is a huge convenience to keeping groups together. During the evenings (peak time), it is much more difficult to hail multiple taxis, so wait periods often vary. We have seen large groups wait an hour or more for a taxi on the beachside.
PRICE GAUGING
Taxis may often increase their prices during evenings, festivals, or events, especially if you are staying or going further south on the beachside (Nomade, Be Tulum Hotel, or Casa Malca). Prices are known to start at $40 USD (single taxi) to $200 USD one way, depending on group size and time. With a private driver, you can rest assure that your driver will wait and pick you up when you're ready without this concern. Again, feel free to leave your personal belongings with our drivers without the worries (includes cameras, backpacks, purses, outfit changes, etc.)
AMENITIES
Unlike regular taxis, private driver service may include amenities such as water, beers, or soft drinks. We also provide Oshibori cold towel service with supervision of your belongings and can personally escort you to reception areas to inform them of your arrival beforehand.
STAY INFORMED
Go Tulum Travel offers private driver service because there is a definite need, as many of our customers want the convenience and value of a stress-free and safe vacation without the hassle of negotiation and loss of time. Customers can book half day (6 hours) or full day (8-12 hours). See our options here,
—
🚐 If you have any questions or need a quote, contact our transportation team via e-mail or WhatsApp. See our Instagram REEL here for a general idea of the VIP service. We will happily assist you with your Tulum transportation!